French brand became the first European fashion house since Castro seized power in 1959 to stage a show in Cuba.
The runway event kicked off both the official cruise collection season, but also, possibly, a new relationship between the island nation and the style set. The connection might finally replace the old cliched Cuba, with its romanticized decrepitude, sorbet shades and old convertibles, with something a little grittier and more realistic in the designer mind.
Held on the Paseo del Prado, Havana's main thoroughfare, in front of approximately 600 imported guests, including customers, editors and celebrities, as well as various residents who could be seen hanging over the balconies of apartment buildings lining the avenue, and watching from the street, the show featured the designer 's signature mixture of muchness: 86 looks, including a few men's wear styles, all of which ranged from the elaborate to the everyday, with a bathing suit thrown in for good measure.
Watching the show, it was not hard to imagine someone like Ava Gardner, holidaying with Hemingway in Havana, trailing clouds of glamour through the streets of the old town. There were light-as-air white crocheted lace dresses and sparkling pastel sequined party frocks with puffed whipped-cream sleeves. There were wide-legged pinstriped trousers under relaxed bouclé jackets and sheer calf-length organza guayabera shirt dresses in shades of gray with strategically placed pockets. And, of course, there were panama hats and berets, very Chanel and very Che at the same time, and a male model carrying a Cuban cigar.
However, Chanel has no official history with Cuba — it was not an inspiration for Coco or anything — and has been quick to note that showing there was simply a creative decision, inspired by Cuba's cultural richness.
At the end of the show a Cuban band accompanied Mr. Lagerfeld and his host of dancing models down the avenue to the lights of a few hundred iPhones as all of the guests started madly using Instagram, Snapchat and Periscope to record the moment.
As ABC News , the show "was a startling sight in a country officially dedicated to social equality and the rejection of material wealth."
There is no question that simply holding such an event in Havana brings global attention to the city. And what about the island itself with its true natural and cultural beauty hidden from a typical tourist? Very few people can presume of having visited Havana, and less than few of having travelled around the country. Due to transportation and accomodation reasons it was not that easy, specially for savvy travelers who look for comfort and style away from the crowds. Finally it became posible with PRIVATE PLAN, that offers a luxury cruise on a mega yacht.
In just one week you will discover that there are much more to see in Cuba, than just its capital, La Habana. You will visit the most colourful Cuban towns, get immersed in its rich culture and history, you will be amazed by unique landscapes of natural parks that are UNESCO designated biosphere, step into colonial 18th century coffee plantation and observe life un rural Cuba, will fall in love with paradisiacal beaches, dive in coral reefs and much more.
All with a confort and style aboard a 68 meters sleek and modern mega yacht, enjoying delicious dining prepared by a private chef, having your SPA sessions aboard, making swim stops in the most picturesque and hidden beaches or just relaxing. What can be better? This is a way to travel deeper and to discover Cuba from a different, ultimately intimate angle, see all its colours and feel all its spirits, listen to all its music and live the moments to remember.

1 Old cars in havana. 2, 3 & 4 chanel cruise 2016/17 backstage. 5 Chanel cruise 2016/17 shoes details.
6 chanel cruise 2016/17 clutch detail. 7 chanel cruise 2016/17 back pack detail.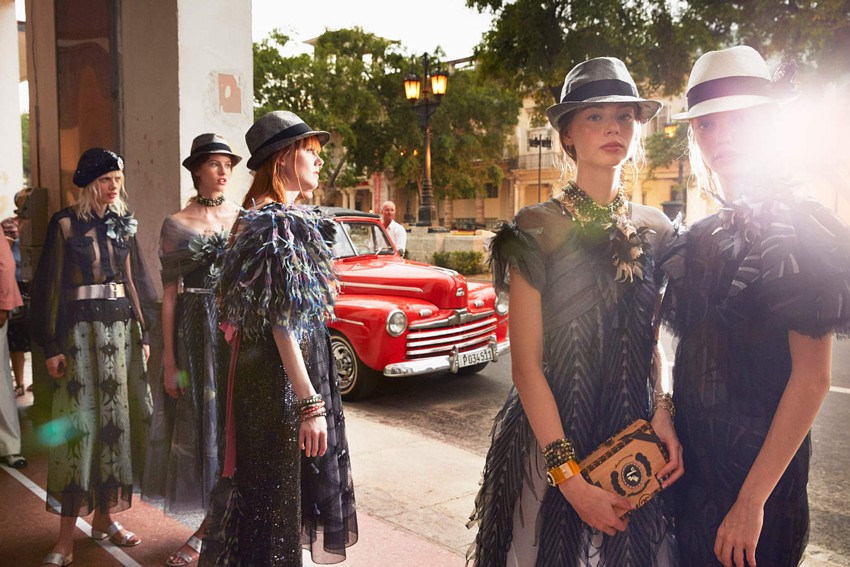 This is a mockup. Publish to view how it will appear live.